I provide a summary of our market outlook to mid-2017.
Post-election surge in consumer sentiment brightens 2017 economic outlook.
I give updated recommendations for our tactical fixed-income portfolio.
In my first 2017 post, I wanted to provide a summary of our market outlook to June of 2017. Mid-year is chosen because in our tactical process at Model Capital, we use a standard 6-month horizon.
Source: Model Capital Management LLC, also see footnote 1.
Total CPI inflation (currently at 1.7%) began to rebound toward core inflation (2.1%) in 2H-2016. Inflation was the primary "market force" that drove interest rates higher – regular readers had advance warning in our reports for advisors (contact us if you'd like to sign up). I think that inflation will continue to rise in 2017, especially in Q1 based on the "base effect," and will reach 2.1% by mid-year. Accordingly, I expect long-term interest rates to continue to rise in early 2017, although at a slower pace than the Q4-2016 spike. The 10-year Treasury yield might reach around 2.8% by mid-year, most (or all) of which likely in Q1. With price pressures from higher rates, longer-term Treasury (IEF, TLT) and aggregate bonds (AGG, BND) might deliver negative total returns in 1H-2017, and corporate bonds (LQD) near zero. Europe's and Japan's central banks are likely to continue suppressing rates by buying their bonds.
With respect to stocks, the forecast for the S&P 500 (SPY) produced by our fundamentals-based model strengthened to 3.2% recently. There's no question, at least in our work, that the stock market is overvalued – so valuation effect on expected return remains negative. But this is offset by positive economic factors in our model (primarily housing) and market  factors (sentiment).
So, we expect the stock market rally to continue in the short term. Let me be clear though – this is only a point-in-time estimate, and may change quickly as new data comes in. I'm not necessarily recommending to be invested in stocks for the entire 1H-2017. It depends on one's current positioning and overall process – ours is tactical.
Global equities (ACWX) might continue to lag U.S., based on the America-first policies and tougher stance on trade by our new administration. In addition, Europe will face heightened political risks beginning with the French election in April-May, with conservative and right-wing anti-EU candidates gaining popularity. The script already played out in the U.K., U.S., and Italy – and while equities reacted positively, this raises currency risk to U.S. investors.
This environment is expected support continued asset flows from bonds into stocks, and from global to U.S. assets. The dollar's (UUP) rally might continue, and dollar/euro parity is likely in 1H-2017.
Confidence Surge
It is likely that any potential damage from higher rates is offset by the post-election surge in confidence. The election of Donald Trump, however unexpected, boosted growth expectations and brought about a tremendous surge in optimism by consumers and business owners. I wrote about it in this recent post – here's an updated chart: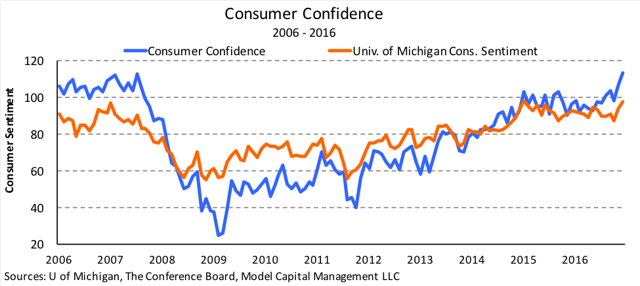 Consumer sentiment measures have surged since November. The University of Michigan consumer sentiment index rose to 98 in December, and the Conference Board's index jumped to 113.7 (see chart). This is a surge of 12-15% in two months, and both measures now stand at or near their 15-year highs.
What It Means To Bond Investors
Our recommendations to active fixed income investors (that is, those not satisfied with buy-and-hold approach) are shifting for Q1-2017. We continue to recommend maintaining short portfolio duration to minimize exposure to rising rates. Our Tactical Income strategy continues to be invested 60% defensively, in 2-3 year corporate bonds, and we moved 40% into senior HY loans based on positive signals from our equity model (described above) and risk models.
If you are a regular reader of MCM's Tactical Strategies reports, you had an advantage of our timely recommendation earlier this year to stay away from longer-term bonds, along with recommendations for high-quality income ETFs with no exposure to interest rates. Learn more about our fundamentals-based, forward-looking approach to tactical investment management. If you are an advisor and are interested in adding a tactical component to your practice, please contact us to begin receiving the report.
---
[1] The figures represent return forecasts or outlook for certain asset classes and not for any Model Capital Management LLC's (MCM) strategy, and is not a guarantee of future performance. These forecasts are forward-looking statements based upon numerous assumptions, risks, and reasonable beliefs of MCM, which change over time. They speak only as of the date they are made, and MCM assumes no duty to update them. Actual results may differ materially from those anticipated in forward-looking statements.
---
Disclosure: I or MCM don't have any positions in the securities mentioned.
Additional disclosure: Roman Chuyan is the president and general partner of Model Capital Management LLC, a Registered Investment Adviser. This article is for informational purposes only. There are risks involved in investing, including loss of principal. Roman Chuyan makes no explicit or implicit guarantee with respect to performance or the outcome of any investment or projections made by him or Model Capital Management LLC. There is no guarantee that the goals of the strategies discussed in this article will be met. Information or opinions expressed may change without notice, and should not be considered recommendations to buy or sell any security.