In this post, I review potential positive catalysts that might push stocks higher in the coming weeks.
U.S. Markets, Year-To-Date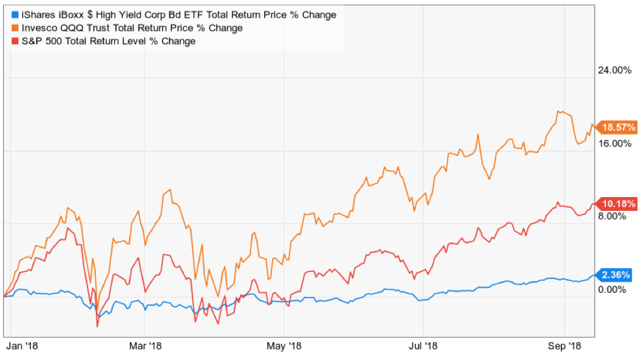 Sources: Quotemedia, Ycharts. Figures as of 9/14/18 market close.
The S&P 500 index consolidated in September around its all-time high after gaining over 3% in both July and August, and is up about 10% year-to-date. The NASDAQ-100 outperformed with an over-18% gain. As I wrote recently, we expect additional gains in the rest of 2018 in the wake of strong economic growth. But, what might trigger these gains? While we know that fundamentals drive markets over mid-term periods, short-term moves often appear to be triggered by specific events, or catalysts. I describe below what we think these short-term catalysts could be.
The Catalysts
The first positive catalyst might be the September 25-26 Fed's interest-setting FOMC meeting. Currently, the market expects another two interest rate hikes in 2018. However, we've noticed a dovish shift in recent speeches where Fed officials discussed inflation, the yield curve, and the neutral policy rate.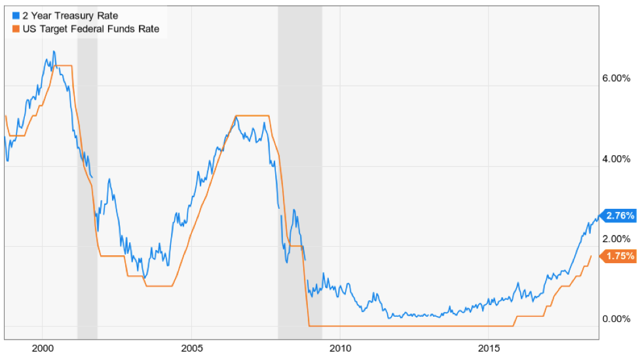 Source: market data
The Fed was raising its Funds rate quickly in both 1999-2000 and 2004-2006 (see chart above). Most analysts agree that higher rates, by hitting the breaks on the economy too hard, contributed to the subsequent recessions. I'm sure Fed officials are well aware of this, and might be concerned about overdoing the rate-hiking this time.
The Fed's measure of inflation, core personal consumption expenditures (PCE) deflator, has just reached the Fed's 2% target, and the more-timely CPI inflation dropped last month (see chart below). Why risk stifling the economy with rate hikes while inflation is just at the 2% target with no signs of further inflationary pressure? While the FOMC will most likely do another 1/4% hike in September, it's possible that they will signal a pause for some time afterwards. This "one-and-done" message would be welcome by investors, in my view.
U.S. Inflation, 5 Years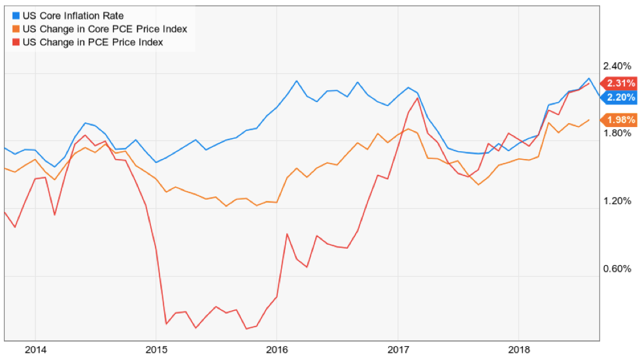 Source: BLS
Reaching another trade agreement that meets the Trump administration's criteria of fair, reciprocal trade terms might be another positive catalyst. The first such agreement was reached with Mexico last month. Negotiations with Canada are ongoing, and it's likely to be next. These will then serve as a model for others. These fair-trade deals will reduce the U.S. trade deficit and thereby increase production (more on trade here).
Last but not least, Q3 earnings reporting will begin in mid-October. Earnings growth has been spectacular, around 25% year-over-year in both Q1 and Q2. Q3 growth is currently expected at 20%. In addition, companies generally beat expectations by 3-4% on average. Growth in this range for the third quarter in a row would be well-received by investors.

Q3 GDP growth expected around 4%
The indicators reported in early September continue to describe the economy firing on all cylinders. The ISM PMI index unexpectedly rose to 61.3 (consensus was around 58), the highest since May-2004 when it peaked at 61.4 (see chart). Retail spending grew a below-expected 0.1% in August, but up 6.6% from last year.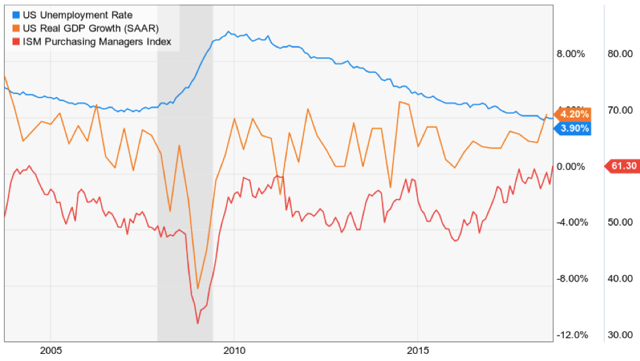 The sum-total of all the different indicators can be seen in the Atlanta Fed's Q3 GDP growth forecast. It's been fluctuating just above 4%, with the latest forecast at 4.4%. Even the bottom of the recent range, around 4%, would be wonderful – in line with Q2 and double what economists thought was possible in 2009-2016.
Disclaimers: Roman Chuyan is the president and general partner of Model Capital Management LLC ("MCM"), a Registered Investment Adviser. This article is for informational purposes only. There are risks involved in investing, including loss of principal. Roman Chuyan makes no explicit or implicit guarantee with respect to performance or the outcome of any investment or projections made by him or MCM. There is no guarantee that the goals of the strategies discussed in this article will be met. Information or opinions expressed may change without notice, and should not be considered recommendations to buy or sell any security.